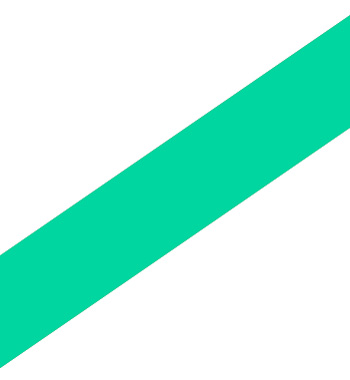 ZHdK Summer School
Der Pilz in Kunst, Wald und Labor
with the artists-in-labs team 
artist Monica Ursina Jäger 
and scientist Martina Peter
1, 2 and 5 September 2022
Key aspects
The artists-in-labs program is part of the Institute for Cultural Studies in the Arts ICS, a research platform of the Department of Cultural Analysis at the Zurich University of the Arts ZHdK.
The institute aims to examine and further develop cultural-analytical approaches to, and discourses on, the arts. Its research also explores the reciprocal epistemological potentials at the interfaces between the arts and other knowledge cultures – in particular the natural and technological sciences.
All the collaborations the artists-in-labs program produces and the results from exploring the parallels and differences of scientific and artistic practices are presented at national and international exhibitions, conferences, lectures, workshops, and in publications, making it possible to share findings, and to provide accessible discussions and aesthetic experiences aimed at the wider public, students and experts.
Research / Communication
POP-UP LAB: STATE OF THE ART - ART AND SCIENCE IN PRACTICE. A SNF-AGORA PROJECT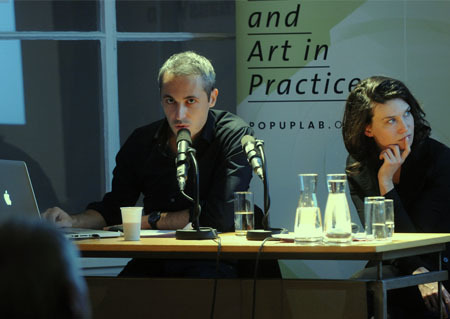 Neuroscientist Thomas Curie from the University of Lausanne and artist Sandra Huber during a lecture performance.
-
Pop-up lab: State of the Art – Science and Art in Practice is a project steaming from a collaboration of representatives from different fields of scientific research and art. During an immersive nine-month residency in a scientific research institute as part of the artists-in-labs program scientists and artists engaged in a sustained dialogue. Motivated by these meetings of minds, the participants of the project  want to expand this dialogue and share the multidisciplinary approach with different audiences. Going out of the usual contexts and spaces of science and art the processes of research of both parties are shared and invite the public to participate through performative workshops, performances and events.
Funded by Swiss National Science Foundation (CH).


ART- SCIENCE: COLLABORATIONS, BODIES AND ENVIRONMENTS

How and why do artists engage with science? Why are scientists interested in artistic representations of their work? What new forms of public access are created when scientists open their laboratories to artists? How might such collaborations tackle the ethical and political dimensions of complex problems?
The international, collaborative research project is investigating the emergence of new artist-scientist collaborations. In this ethnographic study of five contemporary collaborative projects in the US the UK, Europe and Australia involving diverse groups of scientists and artists, the institutional, political, epistemic and technological matrices are explored that allow these interfaces to emerge and that shape their development and wider impact. // pdf
Funded by National Science Foundation (USA) and Arts and Humanities Research Council (UK).

MANAGING ARTISTIC INTERVENTIONS IN ORGANISATIONS:
A COMPARATIVE STUDY OF PROGRAMMES IN EUROPE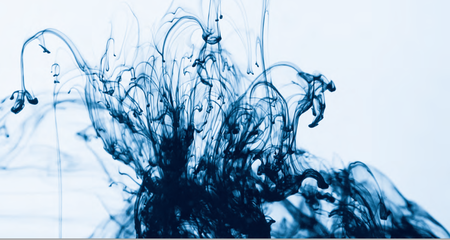 The redefinition of the cultural sector in 1997 that broadened the scope of the traditional arts to include the creative industries and services was a first step toward policies to promote the new economy of culture. The following report analyses how artistic interventions can contribute to the priorities of the Europe 2020 strategy "smart growth", "sustainable Growth" and "inclusive growth" at the national, regional and local levels and in all sectors.
Recognizing that artistic interventions are often conducted with the support of intermediaries that bridge between the world of organisations and the world of the arts, a comparative report had been written in 2009 about four organizations in Europe. The Swiss artists-in-labs program was one of the four chosen organisations to be analyzed. The report documented the history, objectives, working methods and funding arrangements of the organisations, revealing similarities and differences bewteen them. In 2011 the 2nd updated and expanded edition of the report had been published. // pdf
Supported by TILLT, Disonancias, Berlin Social Research Center.
Conferences
Overgaden. Lectures: Art + Science – Towards a Third Culture? 2014 Institute of Contemporary Art, Copenhagen
Art + Science: Towards a Third Culture? is part of Overgaden's conference series Overgaden LECTURES, which was launched in 2013 to provide an annual opportunity to explore key tendencies in the field of contemporary art in depth. This year we are focusing on the interaction between art and science and examining the current hype surrounding the phenomenon. Which structural and methodological similarities and differences characterise the two disciplines? Why is an exchange between them relevant right now? Is it a dialogue between equals? And what role does financing and funding play in a relationship between what sceptics might call a mismatched couple? These are the questions at the core of the conference that will be explored over two days of lectures and debates with leading experts in the field, as well as via concrete experiences and results of collaborative projects between artists and scientists.
Further information:
www.overgaden.org 

ScienceComm' 14
2014 Beromünster/Sursee
Further Information: 
www.sciencecomm.ch

TransCultural Exchange's 2013 Conference on International Opportunities in the Arts: Engaging Minds.
2013 Boston University, Boston
The Conference panels will focus on topics meant to inspire and address many artists' desire to engage in other fields of discipline; while, at the same time, preserving the Conferences' aim to serve as an international forum for practicing artists and related professionals.
Further information:
www.transculturalexchange.org

Kunst & Wissenschaft – Renaissance einer Arbeitsbeziehung?
2012 Progr, Bern
Please visit our website (events) for more information in German.

How Artists and Scientists collaborate
2011 Swissnex, San Francisco
In conjunction with the exhibition Think Art - Act Science, swissnex San Francisco brought together four experts working at the interface of art and science to discuss how they navigate the boundary and reap the benefits of both disciplines. The Swiss artists-in-labs program being the basis of the exhibition Think Art - Act Science has been invited to outline its organisation. 
Further information:
www.swissnex.org

Art as Environmental Politics?
2011 Kunsthalle, Lucerne
Within the exhibition Think Art - Act Science, the Kunsthalle Luzern invited for a panel about the multilayered questions emerging from our present-day relation to science and nature as well as the role contemporary art can play in this context. By bringing together different perspectives on issues evolving around themes ranging from integrative biology to aristic positions on sustainability a creative and constructive debate generated from both life experiences and theory.

Trespassing Allowed
2008 ZHdK, Zurich
How can boundaries of situated knowledge be crossed? What are the values of exchanging practical and theoretical processes? How do scientists and artists perceive their work reciprocatively? Artists and scientist of the Swiss artists-in-labs program (2008/2009) presented their projects at the Zürcher Hochschule der Künste and shared their experiences with the public.
Further information:
www.kunstbulletin.ch

Art as a Catalyst – Science et Cité
2006 KKL, Lucern
Illustration versus Interpretation
2004 ZHdK, Zurich
Nomadic Transitions
2003 ZHdK, Zurich
For three days theorists and practitioners came together to address the controversies surrounding the discourses of Art, Art Theory, Perception, Media Theory and Media Technology and questions new concepts of creativity and co-authorship, as well as the future of theoretical education in relation to contemporary art and media practice. 
Further information:
www.leonardo.info
Publications