Mahashe George
Artist Name
Mahashe George
Residency Program Title
artists-in-labs South African - Swiss Residency Exchange
Institute Lab Title
Astronomy Department, University of Geneva
Artistic Background
Photography
Scientific Discipline
Astronomy
Gallery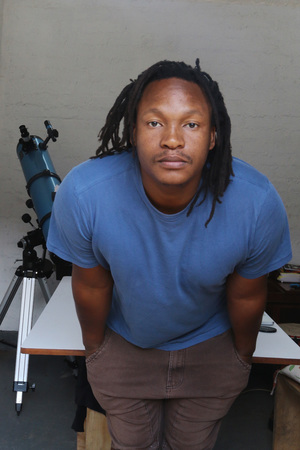 Biography
Biography
Johannesburg based artist George Mahashe (*1982, Bolobedu, South Africa) operates within the wider field of photography, particularly at the intersection of photography, anthropology, Balobedu archives, artistic practice and recently astronomy. He holds an MA in Fine Art from the University of Cape Town, where he is pursuing PhD in Fine Arts.
With photography as his focal point, George looks at the imagination manipulation and restoration of history. He is interested in photography's ability to foster dialogue between people, young or old, rural or urban. He argues that people tend to open up and respond when a photograph is presented because we all have an experience of photography, either as the subject, the photographer or as the viewer/audience. It is this quality that fascinates him and compels him to strive towards an understanding of what is it about photography that makes it so. His recent work focusses on the camera obscura as a medium to metaphorically dissociate photography from its traditional cultural context since its invention in 1839. George is particularly interested in how photography is implicated in almost all visual arts practices, and its ability to transgress between the different disciplines of art and the wider humanities. Besides his artistic practice he regularly contributes to academic conferences and symposia, and lectures in fine art and anthropology at Wits University. George is also the convenor of the "Defunct Context", which is a curatorial proposition at the Department of Social Anthropology 's ethnographic museum at Wits University.
Project
For this residency in the framework of the artists-in-labs South African-Swiss Residency Exchange 2018 he is focusing on the research on exoplanets, working in close collaboration with researchers of the University of Geneva's Astronomy Department in Versoix.
Website
www.georgemahashe.co.za